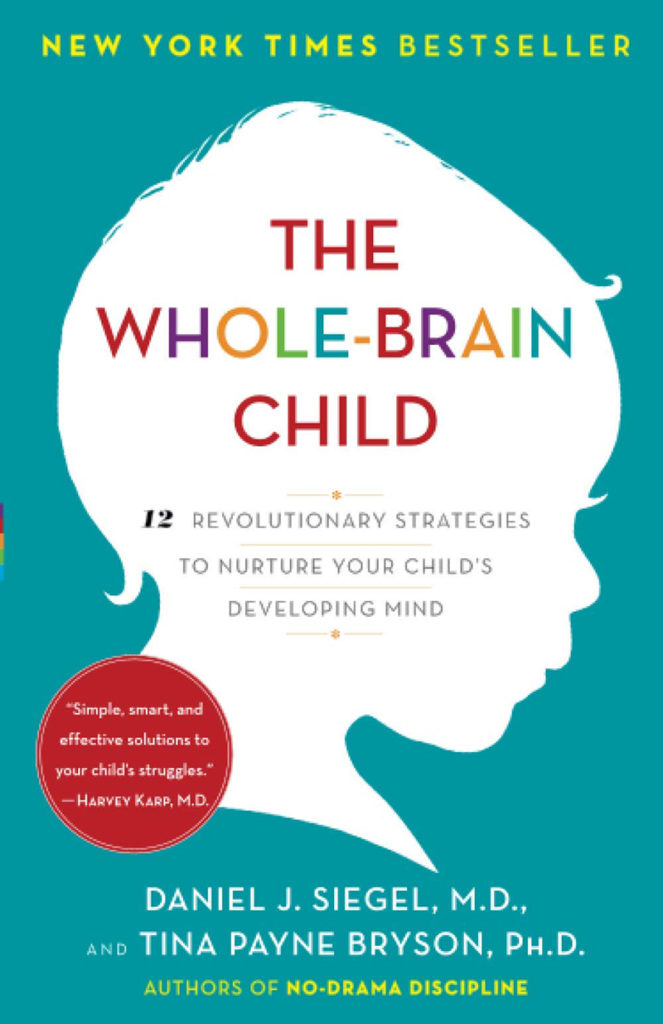 The Whole-Brain Child
by Daniel J. Siegel & Tina Payne Bryson
Have you ever had challenging moments with a child? Perhaps it included a meltdown, conflict, anger or negative feelings. "The Whole-Brain Child", by Doctor David J. Siegel and Dr. Tina Payne Bryson is a book written to help adults influence children in a positive direction as their brains grow and develop.
Daniel J. Siegel received his medical degree from Harvard University and completed his postgraduate medical education at UCLA with training in pediatrics and child, adolescent and adult psychiatry.  He served as a National Institute of Mental Health Research Fellow at UCLA, studying family interactions with an emphasis on how attachment experiences influence emotions, behavior, autobiographical memory and narrative.
Tina Payne Bryson is a psychotherapist and the Founder/Executive Director of The Center for Connection and Play Strong Institute in California, where she offers parenting consultations and provides therapy to children and adolescents.  She earned her Ph.D. from the University of Southern California, where her research explored attachment science, childrearing theory, and the emerging field of interpersonal neurobiology.  Dr. Bryson has an unusual knack for taking research and theory from various fields of science, and offering it in a way that's clear, realistic, humorous, and immediately helpful.
The book can be purchased from Amazon. Hardcover, $18.75, paperback, $12.89, Audio CD $19.99, Kindle $13.99, or check one of these out from your local library. Random House, 2011 is the publisher.
The book is organized around 12 strategies that will help you understand your own brain and your child's developing brain, and use that knowledge to raise a happier, more resilient child. Written for anyone who spends time around kids, it's a great guide on how to use all your interactions to help them develop into the kind of people we want them to be. This is down-to-earth parenting, using everyday moments and interactions – the good, the bad, and the ugly.
The back of the book has a refrigerator sheet, that outlines the important points from the book. And further back in the book is a reference chart that is broken down by ages and stages of development, with specific tools for you to use for each of the twelve strategies for helping to integrate children's brains.
Complete with clear explanations, age-appropriate strategies for dealing with day-to-day struggles, and illustrations that will help you explain these concepts to your child, The Whole-Brain Child shows you how to cultivate healthy emotional and intellectual development so that your children can lead balanced, meaningful, and connected lives.
I have listened to the audio twice, and highly recommend the book to parents, grandparents, teachers, house parents in our agencies or anyone working with children.