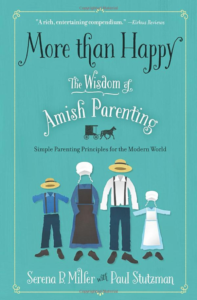 More than Happy: The Wisdom of Amish Parenting
by Serena Miller and Paul Stutzman
Publisher: Howard Books, 323 pages.
Hardback $19.50, Paperback $16.99, Kindle $12.99
This book investigates what Amish culture is doing that produces children and people of value to our society. The Amish are very intentional in their parenting. The book explores how they are intentional about family relationships, technology, food, worship, friendships, and generosity. Each chapter also includes take-away advice regarding how non-Amish parents can incorporate these principles in our own families.
Reading the book, one can't help but compare the simple Amish way of life with the lives most of us live. Serena Miller has a personal relationship with many Amish families, which gives her a unique perspective.  Most of the Amish children the author knows are joyful, calm, and respectful, yet they don't have all the latest toys and conveniences our children have.
The broad categories Serena covers are family, community, discipline, the work ethic, technology, and faith.
Anyone raising children (parents, grandparents, house parents) will find some wonderful ideas that might be incorporated into their parenting.
One of the most interesting facts is the high retention rate the Amish have, when most faiths seem to be losing more and more of their youth.
One doesn't have to agree with every aspect of the Amish to glean from many of the principles and techniques mentioned in the book.