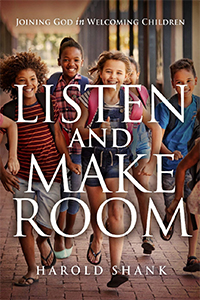 Listen and Make Room
by Harold Shank
ACU Press, 2020.
255 pages, $21.99. Paperback, Kindle, ebook.
Available at Amazon.com or ACUpressbooks.com.
The way of Jesus seems upside down in our broken world.
Listening to and making room for the vulnerable is not the way to get ahead in this life. Yet, this is the way Jesus lived, and it is exactly what our world needs. Jesus' example shows us that children are at the core of God's mission.
You can read the review of this book that is in the May issue of the Christian Chronicle by clicking here.