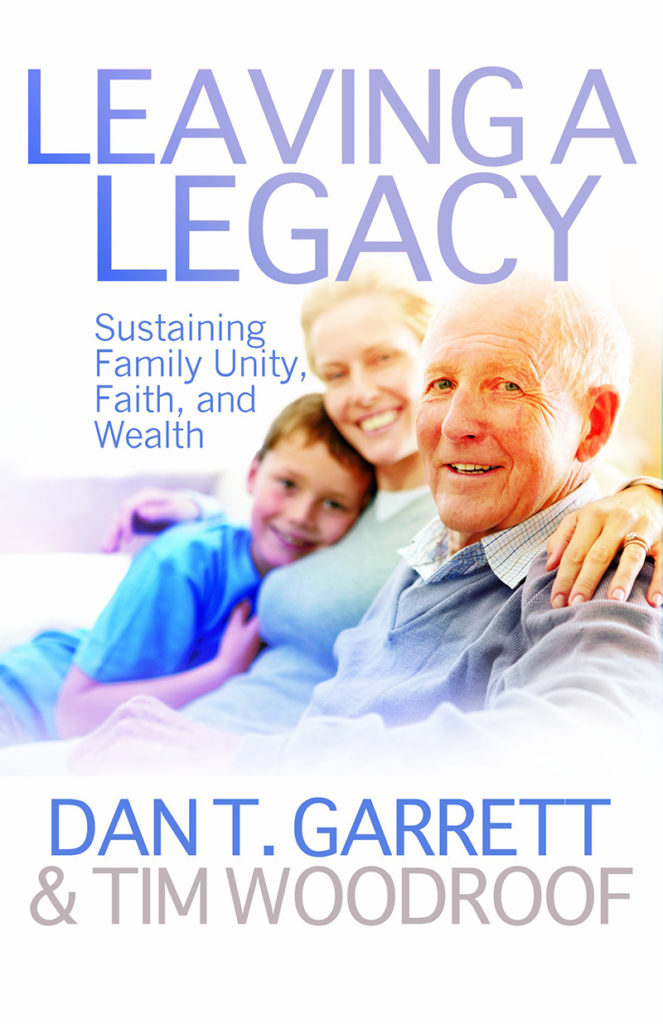 Leaving a Legacy: Sustaining Family Unity, Faith, and Wealth
by Dan T. Garrett and Tim Woodroof
Abilene Christian University Press, 2014
Paperback, $10.68 on Amazon
Dan T. Garrett is a popular speaker and coach on matters of stewardship, faith, values and wealth.  Tim Woodruff has been a pastor for over 30 years.  He now serves as a church consultant and has authored 10 books.
Have you thought about the legacy you will leave?
Whether by design or default you will leave a legacy.  Whatever survives you when you are gone will be your legacy.
The underlying premise of the book is that the values you live by are your most important asset, and the greatest inheritance your heirs will receive has less to do with valuables than with wisdom.
If you are a parent, grandparent, or house parent, consider what you are leaving to those you love most.  This book gives guidance beyond leaving just our valuables.  Perhaps more importantly, it helps us in passing on our values.
Highlights of the book.
A sobering statistic.

 

In families where new wealth is created by one generation, 70 % of that wealth has dissipated by the second generation, and 90% is lost by the third generation.

 

It has nothing to do with taxes, economies, or cultures.

 

It is the failure of families to transfer leadership and values to succeeding generations.
Twelve characteristics and habits commonly found in families that pass on values as well as possessions.
Four fundamental questions we need to ask:
(1) who are my heirs?
(2) what do I leave behind?
(3) how will I pass on my legacy?
(4) why do I want to leave a legacy?
4. "Leaving a Legacy" explores what you will pass on, a legacy process and possessions and people of faith.
5.  The Appendices (41 pages) are filled with exercises, ideas, questions, and tools to help in putting into practice the teachings in the book. Concepts don't have much personal value until they are applied. This section should not be skipped over.  It is the best way to turn good intentions into reality.  It is a valuable tool for all Christians serious about leaving a legacy of faith.