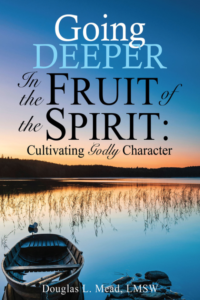 Going Deeper in the Fruit of the Spirit: Cultivating Godly Character
by Douglas L. Mead, LMSW
Publisher: Xulon Press
Originally published: 2022, Paperback, 167 pages,
Target and Walmart $15.99
Doug Mead spent his entire career working for Christian-based child and family service agencies.  He has his MSSW, and has worked as a social worker, program director, and executive director in various agencies.  He has also been involved with the local church wherever he lived. He has served as a deacon and taught adult Bible classes.  Doug has also been a presenter at various conferences. In 2021 he wrote "Going Deeper with God, Addressing Challenging Issues in Our Relationship with God." Doug is married to Nancy, has two sons and daughters-in-law and four grandchildren.
Focusing on the ninefold fruit of the Spirit in Galatians 5:22-23, Doug goes through each fruit one by one.  He spends time explaining what the Greek word for each of the fruit means and shows that these qualities are fundamentally who God is.
As a Christian who has spent his life as a professional counselor, Doug communicates how this fruit can be evident in our relationships with others.  Incorporating other Scriptures to give a broader understanding of the fruit, Doug reminds us that these characteristics are found throughout God's Word.  I appreciate the fact that he always mentions what acquiring this fruit looks like practically.
Whether one is looking for a book to grow in her relationship with God, or to be used in a Bible class, "Going Deeper in the Fruit of the Spirit" is easy to follow and a useful book to consider.