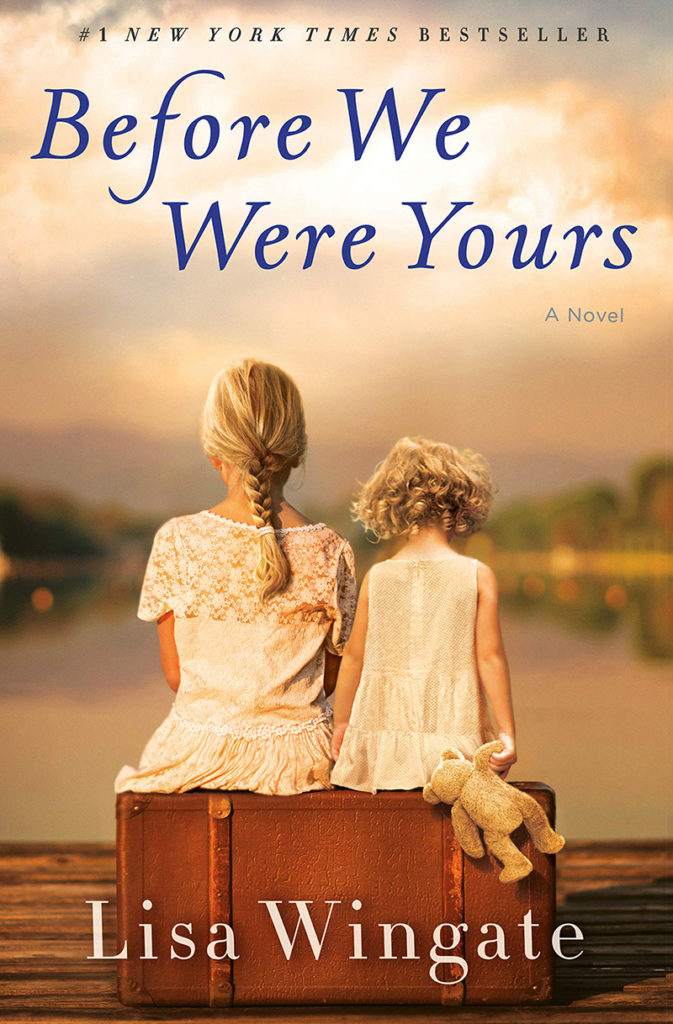 Before We Were Yours
by Lisa Wingate
New York: Published by Ballantine books, 2017
342 pages. | Cost $26.00.
When I read Proverbs 31:8, 9, "Speak up for those who cannot speak for themselves, for the right of all who are destitute. Speak up and judge fairly, defend the rights of the poor and needy, I often wonder how I can do that? Maybe all of us ask that same question.
Lisa Wingate's novel, Before We Were Yours, a 2017 New York Times bestseller based on a true scandal in the 1930's involving the Tennessee Children's Home Society, powerfully addresses the issue of those who cannot speak for themselves. (Note: Tennessee Children's Home Society is not connected to Tennessee Children's Home, Inc. that is part of Network 1:27).
Written from two viewpoints, both immediately captivate the reader. The first takes place in the present as Avery Stafford, the daughter of a politician considers her grandmother's past and discovers hidden family secrets of orphans and adoptive parents. The second viewpoint comes through the eyes of twelve-year-old Rill Foss. Living on a shanty boat with their mother and father, Rill and her four younger siblings are poor but happy. One-night Rill is left in charge as her father rushes her mother to the hospital. Soon strangers arrive promising Rill and her siblings that they will see their mother and father. Instead they are thrown into the Tennessee Children's Home Society orphanage. Although assured they will be returned to their parents, the children soon learn this is one of many lies they hear at the children's home. The two viewpoints eventually intersect, as Avery considers her unknown past and Rill looks into her uncertain future.
Wingate reveals the injustice of children and poor families at the hands of Georgia Tann, the director of the Children's Home. Based on a notorious real-life scandal, Before We Were Yours reminds us that we must speak up for children who cannot speak for themselves.
The book's dedication is especially relevant to those who are part of Network 1:27 and work in childcare. It reads: "For the hundreds who vanished and for the thousands who didn't. May your stories not be forgotten. For those who help today's orphans find forever homes. May you always know the value of your work and your love." This is important to keep in mind when facing daily challenges that come with working with children as part of Network 1:27. Whether the difficulties be with the children, funding, conditions, opposition, families, or lack of appreciation, helping children is valuable.
One of the strengths of the book is realizing how children in our country suffered for three decades at Tennessee Children's Home Society. Mary Sykes, one of those children along with her infant sister, was stolen from the porch of her unmarried mother's home when she was just four years old. Placed in the care of the TCHS Mary reflects, "I remember sitting on the floor in a room full of cribs, reaching through the bars and just patting my sister's arm. She was too weak and dehydrated to even cry. No one would help her. Once it was clear that she was too far gone to recover, a worker put her in a cardboard box and carried her away. I never saw her again. I heard later that, if babies got too sick or cried too much, they'd set them in the sun in a carriage and leave them."
At the end of her novel, Wingate gives several sources for further reading and research on Georgia Tann and the Tennessee Children's Home Society. Two of the most recent books are "Alone in the World: Orphans and Orphanages in America" by Catherine Reef (2005) and "The Baby Thief: The Untold Story of Georgia Tann, the Baby Seller Who Corrupted Adoption" by Barbara Bisantz Raymond (2007).
While exposing a chapter in our nation's history that involved the stealing and selling of children, this novel encourages all who work with children. The dedication reminds us that it is those who are involved in foster care and adoption, from the Board to house parents, that can make a difference in the lives of children. These are the men and women who can and must speak for those who cannot speak for themselves.