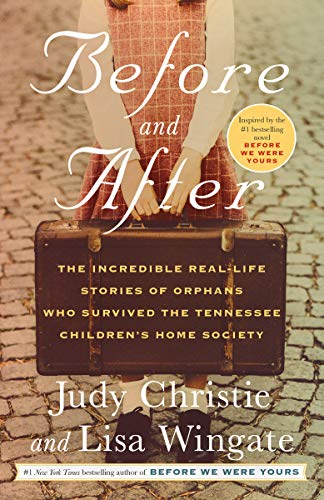 Before and After
by Judy Christie and Lisa Wingate
Ballantine Books 2019, 292 pages.
Hardback from Amazon $9.25.
Judy Christie – an award-winning journalist and the author of eighteen books both fiction and nonfiction. She holds a master's degree from Louisiana State University.
Lisa Wingate the author of numerous novels, including the #1 New York Times bestseller "Before We were Yours" and the national bestseller 'Tending Roses." 
The incredible, poignant true stories of victims of a notorious adoption scandal–some of whom learned the truth from Lisa Wingate's bestselling novel Before We Were Yours and were reunited with birth family members as a result of its wide reach.  Before We Were Yours is also reviewed on this website. As stated in that review, these books dealing with the Tennessee Children's Home Society has nothing to do with our current Tennessee Children's Home in Nashville, Tenn.
The publication of Lisa Wingate's novel Before We Were Yours brought new awareness of Tann's lucrative career in child trafficking from the 1920's to the 1950's. Adoptees who knew little about their pasts gained insight into the startling facts behind their family histories, as Wingate and  Christie document the stories of fifteen adoptees in Before and After.
Before and After includes moving and sometimes shocking accounts of the ways in which adoptees were separated from their first families. Often raised as only children, many have joyfully reunited with siblings in the final decades of their lives.  The stories that Wingate and Christie share are full of both heartache and hope.
If there is a weakness in the book, it is keeping the fifteen adoptees straight as one reads their stories. I found some of their stories so similar it became confusing.
The real strength of the book is learning the sad truth of what happened at this point in our country's history and the effect it had for years.
For those working with Network 1:27 and involved in childcare Before and Afterreveals the long-term effect that not knowing one's roots and past family can have.  Some wonder why their mothers would not want them, others mourn the fact that they have no siblings, and others fear being abandoned again.  These real life stories give us insight into the children we serve and the circumstances some may have experienced.