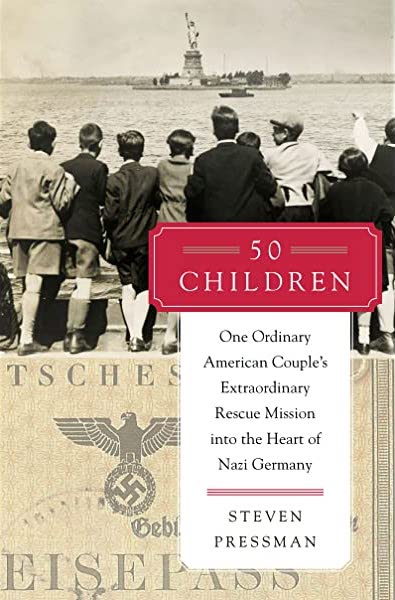 50 Children: One Ordinary American Couple's Extraordinary Rescue Mission into the Heart of Nazi Germany
by Steven Pressman
Publisher: Harper Collins Publishers
Originally published 2014
298 pages, $8.84
Steven Pressman worked as a journalist for more than thirty years writing and editing for newspapers, magazines, and other publications in Los Angeles, Washington DC and San Francisco. He produced the HBO documentary film 50 Children: The Rescue Mission of Mr. and Mrs. Kraus.
The cover of the book is a photo of some of the children rescued on board the S.S. Harding as it sailed into New York harbor on June 3, 1939.
Journalist Steven Pressman first told the story in a documentary that aired on HBO. In "50 Children," he provides a fuller treatment, blending historical research, interviews with the now-elderly men and women who were rescued and extensive quotations from an unpublished manuscript by Eleanor Kraus. The result is a rich and rewarding read.
In the spring of 1939, a few months before the start of World War II, a young couple from Philadelphia, Gilbert and Eleanor Kraus, accomplished a heroic feat. They rescued 50 Jewish children from Nazi-held Vienna and escorted them to safety in the U.S. Almost everyone told the Krauses it couldn't be done—that the Nazis wouldn't let the children out and that the U.S. State Department wouldn't let them in.
Gilbert and Eleanor Kraus led comfortable upper-middle-class lives in Philadelphia. He was a successful attorney and she a socialite whose daily routine revolved around home, family, charitable work, and cultural outings. When a fellow member of a national Jewish fraternal organization, Brith Sholom, asked Gilbert to spearhead an effort to rescue Jewish children in Germany, he agreed and enlisted his wife's assistance.
The Krauses were warned against venturing to Germany at this time: A prominent Quaker contingent had recently been rebuffed by the Nazis; the U.S. and other nations had tightened restrictions on immigration; and even various Jewish groups and charities tried to convince the couple of the folly and danger of the rescue plan. "One would think we were trying to do something illegal or wicked, even degrading," Eleanor remembered. After securing affidavits from 50 sponsors, completing the vast paperwork, and achieving clearance from the State Department, Gil finally left in April 1939 and summoned Eleanor to come shortly after. Making their way through Nazi Germany to Vienna, the couple observed chilling details of the nation's militarization and oppression of the Jews. The details around selection of the children, leave-taking of their parents and the tearful travels are heart-rending, but eventually, they were safely shepherded to a summer camp in Collegeville, Pa.
With a careful eye to detail and dialogue, Pressman vividly re-creates this epic rescue.
Gil felt the weight of selecting fifty children from among the hundreds whose parents had become desperate enough to send them away."
It can be challenging to create suspense in a tale for which the ending is known. Pressman does a good job with 50 Children: One Ordinary American Couple's Extraordinary Rescue Mission in the Heart of Nazi Germany, a book whose title pretty much tells it all.
One of the most moving scenes takes place at the train station when the parents deliver their children for the transport. They are instructed not to wave goodbye, as Jews are not allowed to give the Hitler salute. Should a goodbye wave be misconstrued, they could be arrested. And so, they stand, arms at their sides, and watch their sobbing children pull out of the station, not knowing if they will ever see them again.
Pressman was able to contact or account for 37 of the 50 children rescued and provides short biographies of their lives (19 were living, 18 deceased). Thirteen remain unaccounted for; their names are listed in the back of the book.